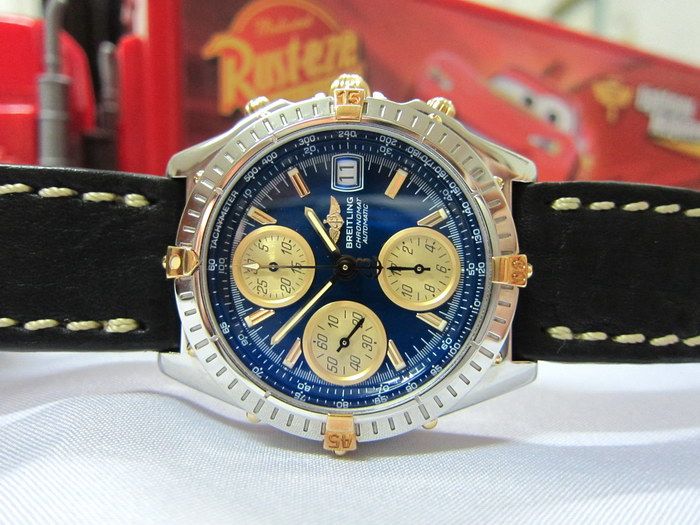 This is the first automatic chronograph watch I fell in love with. I bought it around year 2000-01 (don't remember exactly when) from an internet grey dealer.
What's not to like about this watch? NONE!
I love its deep blue dial
I love the yellow subdials
I love blued chronograph hands
I love two-tone combinations of blue and yellow gold. I think Blue/YG is the best combination compared to Black/YG ......pun intended.
Specifications
Production year: 1997-2000
Case diameter: 40mm
Thickness: 14.7mm
Movement: Breitling caliber 13 (based on val 7750)
Case and bracelet: polished stainless steel
Crown, pusher, and 4 marks on top of bezel: 18k YG
Crystal: sapphire with dual AR coating
Original Strap: pilot bracelet
Lug size: 20mm
Weight: 80grams watch only, exclude bracelet
During the 90's there were two kinds of Chronomats:
1. Chronomat GT like mine...GT stands for Grand Totaliser. Chronomat GT uses Baton indices on the dial.
2. Chronomat Vitesse...Vitesse in French means SPEED. Chronomat Vitesse uses large arabic indices on the dial, IMHO making the dials look very busy. I still prefer the old fashioned baton indices from the GT.
Both case and pilot bracelet are mirror, shiny polished. Some may like it but others (like me) don't. That's why I leather-strapped it to make it look casual.
Before year 2000, Breitling did not put its watches to COSC certification, therefore no "Chronometre" letter on both dial and caseback. However Breitling claims that watches with COSC and non-COSC have exactly the same movement grade.
The watch is no longer in my possession ... maybe if I'm lucky enough I'll be able to get it back in the future.
Enjoy few pics taken by a good friend of mine: